Move into Denmark's leading development environment
Move in and become part of DTU Science Park. We rent out top-notch office and laboratory facilities to deep tech companies. Our rentals can be tailored to your needs, giving you peace of mind to focus on your business.
We have Denmark's most ambitious growth programs and the best people in the industry to help you accelerate your startup. Through intense courses, we challenge you to set ambitious goals and provide you with the tools to create a viable business.
DTU Science Park is the epicenter for deep tech companies in Denmark. With Denmark's largest life science cluster in DTU Science Park Hørsholm and Lyngby, you gain access to the country's largest and strongest community within life science.
Commercial rentals at DTU Science Park
Scalable rentals with options for laboratory, storage, and hardware workshop
Laboratories
Access laboratories that provide you with the best working conditions and meet the highest safety standards. Here, you can conduct all types of high-tech tests and experiments that advance your company's development and technology.
Domiciles
We are happy to build new and renovate our premises to create the right environment for your company's growth. Move in to a place where you can take charge of layout, architecture, design, and interior yourself.
Offices
You can rent offices of all sizes and gain access to professional meeting facilities, communal canteen, and reception. Become part of an experienced and ambitious community with the opportunity to scale up as your company grows.
Desks
By renting space in our office community, you have the opportunity to collaborate and share knowledge with other start-ups and scale-ups in the deep tech industry, as well as gain access to mentors who can assist with your business development.
Workshops
Our workshop is equipped with test equipment for electronics development. If you need to make adjustments to components or drill holes, you can purchase access at DTU Science Park in Lyngby. Here, you'll find everything from a 3D printer to a soldering iron and a drilling machine.
Storage
Both you and your employees have the opportunity to rent one of our storage spaces. They come in all sizes, from a few square meters to large halls, and provide secure storage of assets close to your workplace..
DTU Science Park offers a flexible lease with the option to scale up or down. At the same time, there is a unique atmosphere with an ecosystem of like-minded entrepreneurs and access to exciting and relevant programs.
Martin Stenfeldt
Founder, MedTrace Pharma A/S
There is a very special spirit in the area. An incredible amount of knowledge and information is exchanged through the strong community that exists in DTU Science Park.
Anne Schwartz
Vice President for Product Supply Site DK, ALK
With the help of mentors, we have now structured our organization, and we have grown by 60% in a year and a half. The mentoring I have received has been of tremendous assistance.
Christian Mammen
CEO, JJ X-Ray
For us, DTU Science Park means that we are part of a larger scientific community, and as a result, we are able to attract employees within the field.
Winne Bügel
General Counsel and Executive Vice President, Compliance & Corporate Affairs, Chr. Hansen
DTU Science Park has a great location for us because it is characterized by biotech and high-tech companies. This makes a difference in attracting the right talent with a biotechnological background, and the fact that we have grown over a couple of years. We are able to grow in a modular fashion. We managed to get new offices and laboratories as our organization grew.
Bent Frandsen
CEO, Expres2ion
Here, we are on the same journey, so everyone who works here understands us because we operate on the same premises. And it helps to legitimize us to customers that we are situated in a tech and knowledge environment.
Erik Staalby
CEO, Aqoola
The community in DTU Science Park means a lot. It is an excellent environment both in terms of facilities, but also that we have a short physical distance to potential customers and partners. It's a huge advantage for us.
Lars Hagsholm Pedersen
CEO, Bioneer
Find peace of mind, and let us handle all the practicalities. This way, you and your team can spend time on what's important.
In DTU Science Park, you get access to:
Reception
Lunch service
Professional meeting rooms
Professional and social events
Green spaces and building maintenance
Companies in DTU Science Park
315 companies with +5,000 employees
From startup to scale-up in record time
Through focused, ambitious, and intense programs, we assist startups and established companies in attracting investors and take the next step on their growth journey. Our growth programs are tailored to all types of deep tech companies.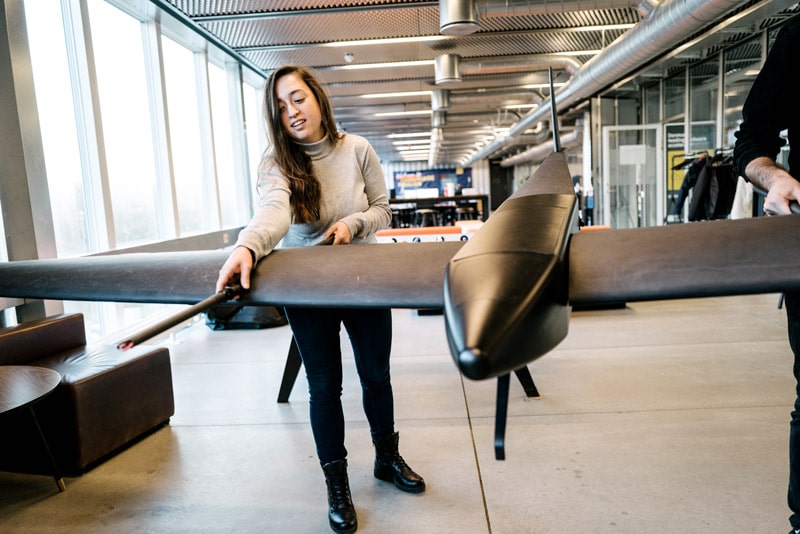 November 30
Hørsholm
The annual Christmas lunch for CEOs at DTU Science Park provides the framework for building social and professional relationships across the companies.
December 1
Kgs. Lyngby
Network with your neighbors, enjoy a complimentary breakfast, and listen to interesting presentations from companies in the science park.
December 1
Hørsholm
Spend a cozy evening with your colleagues and network with your neighbors at our Friday bar.
Become a part of a community among leading deep tech companies and research flagships who will serve as both your sparring partners, colleagues, and friends.
We set ambitious goals in our work towards a sustainable everyday life.
We work daily towards becoming more sustainable to create the optimal conditions for the environment and our customers. We aim for DTU Science Park in Hørsholm to become DGNB gold-certified by 2025, thus becoming Denmark's first business area with over 400 sustainability parameters certification.
That's why we offer green power, among other things. We also work diligently to promote collective transportation methods, improve resource cycles, and increase biodiversity. We also think about our green areas and always incorporate nature and the surroundings into our construction.
In our growth program, the GreenUP Accelerator, we allocate resources to assist startups in developing sustainable solutions.
Would you like to learn more?
Do you want the best opportunities to develop, test, and grow alongside the country's leading research companies? Then DTU Science Park is the right place for you and your company.
Are you seeking inspiration? We write articles on everything within the life science industry, where you can become more knowledgeable and support your growth journey.