Get assistance from some of Denmark's top business developers
Access to valuable mentoring
DTU Science Park's growth team consists of a range of experts who assist you on your growth journey. Through 1:1 mentoring, our team can help you where it's needed.
Når du deltager i et af vores programmer, får du gratis sparring med de fageksperter fra vækstteamet, du har brug for.
Du kan også få tre uvildige mentorer tilknyttet i seks måneder i vores mentorprogram, DeepTech Mentoring.
Med adgang til fagpersoner, der selv har stor erfaring fra branchen, får du værdifuld sparring og bliver udfordret til at udvikle din virksomhed netop der, hvor der er allermest brug for det. Du får en strategisk retning for virksomheden, en valideret forretningsplan og viden om, hvordan du skal vækste.
Det medvirker til, at du hurtigere kan overvinde udfordringer og gøre dig attraktiv for investorer.
Experts in a wide array of fields
Our team offers great versatility and experience for your benefit and that of your company. Our growth team includes, among others:
Business developers
Investor manager
Experts in product development
Organizational psychologists
Communication experts
Serial entrepreneurs
As a participant in our growth programs, you receive qualified mentoring and assistance from our skilled business developers as well as external Supporting Partners.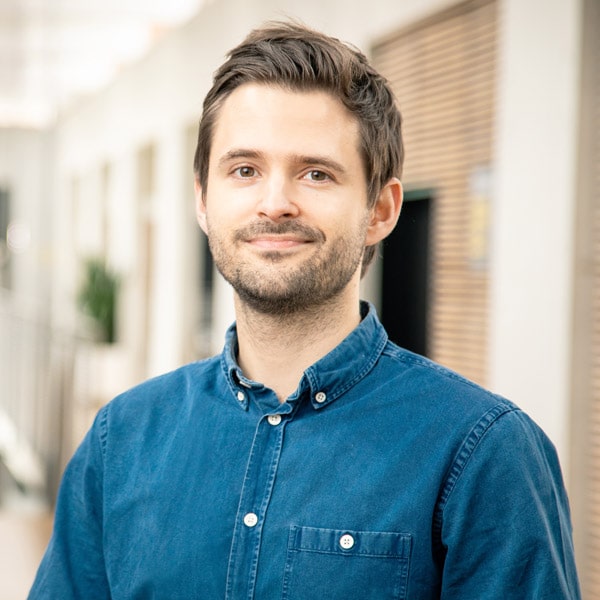 Program Manager, GreenUP Accelerator
I have helped a number of startups:
With a background in business development, Thomas has been active in the startup community for five years, helping startups navigate the process of finding their product-market fit.
Additionally, he has been involved in reviewing thousands of startup pitch decks and pitches and knows how to communicate your business case in the most appealing way.
You will meet me in the "Getting to product market fit"-discipline, where I will help you make sure that you address the right problem, in the right way, for the right customer(s), in the right order. Getting to product-market fit is critical for any startup and breaking down your customers and markets into segments and navigating the nuances between them is key to achieve that.
This is what I will be working with you on as well as being able to communicate it in a convincing way to investors.
Furthermore, you will meet me in your biweekly check-in meetings in GreenUP.
M.Sc. International Business, Language and Culture – Business and Development Studies
Selected sector experience
Renewable energy
Technology transfer
Energy access
Soft funding
Selected industry experience
UNEP DTU Partnership
Innovation Fund Denmark
Program Manager, Danish Tech Challenge
I have helped a number of startups:
Kristine has a background in the field of Supply Chain and experience in a wide range of industries. The main focus has primarily been on strategy development, structuring, and optimizing production setup domestically and internally. Kristine has been part of the acceleration programs for the past two years.
I will help you develop your startup and make sure that you get the best and most out of the program you are part of.
Cand. Merc.: Supply Chain
HD(IB), International Business
Selected sector experience
Medtech industry
Food/FMCG/Retail
B2B services
Selected industry experience
Carlsberg
Toms Group
Coloplast
Lagkagehuset
Alliance manager, DeepTech Alliance
I have, among other things, assisted these program alumni in international business development:
Thomas is Alliance Manager for DeepTech Alliance, initiated by DTU Science Park. DeepTech Alliance is a collaboration between deep tech startup support organizations associated with leading European technical universities. He collaborates closely with open innovation managers, CVC managers, VC managers, and startup ecosystem hubs across Europe to offer promising deep-tech startups access to the business and capital opportunities they need to scale internationally.
Thomas has a background in business development, innovation management, stakeholder management, community facilitation, organizational development and executive coaching.
You might meet him in the programs bringing in perspectives on B2B sales, value proposition validation and do's and don'ts when approaching big industrial clients for PoC and Pilot collaborations.
MSc in Business Administration and Philosophy from CBS, specialized in innovation management, coaching and organizational development
Selected sector experience
Energy
Manufacturing
Open Innovation
Startup Acceleration
Business development
Consulting
Food & Beverage
Selected industry experience
DeepTech Alliance
DISPUK
Futurebox
I have helped a number of startups:
Danny knows the business angels in Denmark really well. He has been with Danish Business Angels – DanBAN for five years, where he was in charge of sourcing, identifying and reviewing investment opportunities on behalf of the 300+ angel members. He has arranged +300 events together with his colleagues, been in dialogue with +2500 startups, and helped hundreds of business angels and startups find each other. Combined with his passion and background within science and engineering he has the ideal combination of skills and know-how to help DeepTech startups to become funding ready and find the right investors for their specific business.
I will mentor you while you analyse and identify relevant funding opportunities for your startup with the goal of obtaining a clear and solid funding strategy.
I can introduce you to relevant national and international business angels and VCs and will be your wingman and sparring partner during investor dialogues and negotiations.
M.Sc. E. in Nanotechnology: Engineering background with specialization in Drug & Tissue Technology
Selected sector experience
Energy
Materials & Chemicals
Engineering
Finance
Governmental
NGO
Selected industry experience
Danish Business Angels
CPHFTW
Haldor Topsøe A/S
One startup
Corporate Partnership Manager, DeepTech Alliance & DTU Science Park
I have helped a number of startups:
Jakob has a commercial background and experience mainly from F&B and the Startup ecosystem. As a former founder he has built, scaled and sold a company, made business angel investments in four startups, sat on startup boards and been part of a management buy-back. A Startup mentor since 2015, he has extensive experience coaching startups with focus strategy and operations.
In later years, he has built a network of connections within Open Innovation, Corporate Venturing and in the VC world, in order to support startups with opportunities regarding POC's, pilots, collaborations and with access to capital.
When your Deep-Tech startup is ready to Scale into Europe and beyond or if you have a need for a service from one of our house partners.
M.Sc. Leadership & Management Studies (CBS/Universitat Autónoma de Barcelona)
B.Sc. Business, Language & Culture (CBS/Universidad Loyola Andalucia, Córdoba)
Selected sector experience
Food & Beverage
Startup Accelerators & Corporate matchmaking
Private Equity & Venture Capital ecosystem building
Startup areas with special knowledge: Clean Energy / Green Tech, Industry 4.0, Food Tech
Selected industry experience
Co-founder Gorm's Pizza
Head of Acceleration, Copenhagen School of Entrepreneurship (CBS)
Project director, Private Equity Insights
COO/CFO Kaffekværnen + Coffee Supply + Nordhavn Coffee Roasters
Board seats: Green Innovation Group, Gorm's, Nabo Farm, Hey Tilde, ByHunters
Jakob founded his first company, a wine import business, at the age of 22.
In addition to our internal growth team, we also have Supporting Partners associated with our disciplines. Our Supporting Partners are external companies that assist participants in our startup programs in selected disciplines where they have specialized knowledge.
Sales expert, Birdi Copenhagen
I have helped a number of startups:
Leon is one of Denmarks leading B2B sales trainers. He has worked with sales and sales development since 1988 and has consultant background since 1996. He is self employed with his sales training company since 2000. Leon has written several books and has written hundreds of articles about sales. He publishes Denmark's most listened-to podcast about sales.
Leon helps your startup plan, execute, and improve sales by working together with you on how to improve sales planning, cold calling, sales meetings, proposal and negotiation, retention, and added sales. Training is based on face-to-face meetings and online sales tools.
Cultivator Sales and Management Education
DTU
Henley Business School
Selected sector experience
Engineering
Construction
Consulting
B2B services
Sales
Selected industry experience
Avis Rent-A-Car
ATEA
Cultivator
Birdi Copenhagen since 2000
Co-founder, Impact Business Modeling System™
I have helped a number of startups:
Mikkel is the co-founder of Impact Business Modeling System™ supporting start-up founders, investment managers and business advisors in making sustainable impact measurable, operational and profitable. Mikkel is a serial entrepreneur and coach working with breakthrough innovation, scalable impact, regenerative leadership and impact investments.

Mikkel has an environmental and commercial background from the development and trade of certified agriculture commodities (banana, cacao and pineapple) in Central and South America. As an impact pioneer he has supported sustainable entrepreneurship in Denmark, the Nordics and Europe for the past 15 years, including portfolio development of +200 impact start-ups raising more than 100 MEUR investment capital.
I will help you develop a clear impact vision including impact indicators and metrics connected to your product or service. A clear impact proposition will make your business more competitive and it will help your company to stand out and stay relevant. It will enhance your communication, attract employees, investors and customers.
Executive: Enhance Growth Entrepreneurship
M.Sc. Communication and Facilitation
Cand. Agro. Tropical Agriculture
Selected sector experience
Agriculture, Food, Bio and Energy
Social and Environmental certification
Impact forecast and validation
Organizational development  
Sustainable Leadership  
Training and coaching 
Selected industry experience
World Bank
UN Food and Agriculture Organisation (FAO)
Copenhagen Innovation and Entrepreneurship
Lab (CIEL)
European Institute of Innovation and Technology (EIT)
Impact Business Modeling System (IBMS)
Our team has helped a number of startups:
Jørgen Ole is an experienced product developer working as an interim manager/consultant.
Jørgen Ole has been involved in projects related to software, hardware, mechanics, and innovation and held positions as Project Manager, Consultant, Advisor, Founder, Owner, Business Development Director, Sales Director, Key Account Manager, CEO, Board member and Chairman.
I will help you define, among other things, development risk, certifications needed, product requirements and development path to your Minimum Viable Product. We will also look at the organizational requirements for your development organisation.
M.Sc. Engineering
Courses: Board, Management, Sales, Systems Analyst, Project Management etc.
Selected sector experience
Consulting and interim management
Strategy and Business development
Medico development
Electronics and device development
Public Transport systems development
Software development
Sales and sales development
Selected industry experience
IBM
DHI
Locus
Trapeze
Move Innovation
Tech Startups
I have helped a number of startups:
So far, I have helped +50 start-ups in the DTU Science Park growth programs.
Henrik has a strong commercial background having worked +40 years with companies ranging from start-ups to global C25 companies mostly in global management roles.
He has been part of a management buy-out that within 2 years created a Scandinavian market leader in the bakery industry.
His main focus has always been developing, structuring, optimizing and running both domestic and global supply chains in a range of business segments. In the past couple of years his main focus has been assisting primarily SMV's and Start-up's  either as an advisor/Management consultant or as a mentor and hold a number of Advisory Board positions.
I will help you build, structure and get an overview of your supply chain and by sharing my experience hopefully enable you to avoid some of the pitfalls I've previously met.
Selected sector experience
Management Consultant
Life Science (Medical Devices)
Food/FMCG/Retail
Energy Sector (construction of power plants)
Shipping/Logistics
Selected industry experience
Zillion Consulting Group
Ambu A/S
Kelsen Group
Bisca A/S
United Biscuits
BWSC A/S
EAC Ltd.
I have coached 80+ founder teams and worked with a number of successful scaleups, among others:
Thea has extensive experience developing teams and organizations from more than 18 years in HR and Leadership roles.
She has worked for companies like Microsoft and Too Good To Go. She has extensive international experience and understanding of working in cross-cultural settings from previous jobs including the Ministry of Foreign Affairs.
Today, she runs her consultancy focusing on helping startups and scaleups build future-proof organizations and cultures that will grow sustainably.
I will help you build and develop a strong team and plan for how to successfully grow your organization.
We will work with your cultural foundation and ensure you are able to attract talent and build people processes that support your growth. I will also inspire you to lead and build your team in new ways to be prepared for a complex world with new demands from customers and employees alike.
MA in sociology
Diploma in organizational psychology
Selected sector experience
SaaS
FoodTech
Sales & Marketing
Consulting
NGO
Central Government
Selected industry experience
Too Good To Go

Microsoft

Save the Children

Ministry of Foreign Affairs

Rambøll Management
I have helped a number of startups:
Jacob has an audit and accounting background and experience from audit of startup and midsize companies.
He has been auditing and assisting companies with accounting for 8 years. He has turned his energy more and more towards startup companies in recent years to assist building the companies accounting to further growth.
I will help you overcome your accounting challenges, e.g., managing liquidity, building budgets, input to choose accounting systems.
I can help you deep dive into your budgets to prepare for questions which could arise from investors and VC's during your funding rounds.
State Authorised Public Accountant, Denmark
M.Sc. Business Administration and Auditing
Selected sector experience
Consulting
Food/FMCG/Retail
Construction
Manufacturing companies
Sales companies
Selected industry experience
Strategy consultant, Holst Mouritzen
I have helped a number of startups:
Anna-Cathrine (called AC) has a background and experience from marketing and strategy from Denmark and UK. She has experience working on a local, nordic, european and global level and across various sectors.
Her focus is on commercial marketing, brand and business strategy.
I will help you identify your key messages your brand should communicate to your target audience(s), when and where and help you create the foundations for your brand long term.
Masters of Arts: Advertising and The Creative Economy
Bachelor: Media Science, marketing branding and organisational communication
Selected sector experience
Business strategy
Marketing and brand strategy
Membership organisations
Luxury and lifestyle brands
B2B
Retail
Army and defence
Auto brands
Telecommunication
Selected industry experience
SAP, IBM, DSM
L'Oreal corporation
Tower of London
Ugg Australia, Mikimoto
Skateistan
Volkswagen group
IDA, Lederne
Forsvaret
CBB mobile
Son of a Tailor (scale-up)
EPA, M. Sc. (Chem. Eng.), Ph.D., AWA Denmark
I have helped a number of startups:
Anders is a chemical engineer and has a background in research in process biotechnology ranging from microfluidic devices to industrial-scale protein purification technology.
Since 2006 he worked as a patent attorney at AWA Denmark A/S.
Anders is a partner in the intellectual property (IP) discipline at the Danish Tech Challenge and GreenUP where he helps the participants with identifying relevant IP and planning for its protection.
M.Sc. in chemical engineering from the Technical University of Denmark (1998)
Ph.D. in process biotechnology from the Technical University of Denmark (2002)
Certified Danish Patent Agent, CDPA (2009)
European Qualifying Examination, EQE (2011)
Selected sector experience
Chemistry
Food & beverages
Life sciences
Manufacturing & process technology
Materials technology & nanotech
Polymer engineering
Selected industry experience
Ricki has experience working with startups both in- and outside DTU Science Park. He loves entrepreneurship, and all crazy ideas that come from being curious, openminded and interested in the world around us.
BACH Law is driven by experienced, highly specialized attorneys, and professionalism, insight and availability are guaranteed. In recent years, BACH Law has been a legal partner in DTU Science Park's growth programs.
I can assist you with your legal documents and challenges, such as shareholder agreements, employment contracts, investment documents, company structure, etc. I take pride in not making legal matters more complicated than they need to be, and no question is too small or too large – we will always do our best to help you.
Selected industry experience
Nordea Private Banking, Wealth advisor
Master of Laws, Copenhagen University
Lett Law Firm (Corporate/M&A)
Attorney, Partner – BACH Law